All wheels sold with Excel rims as standard but other brands and models are available.





See PDF price list wheels for motocross, enduro och supermoto: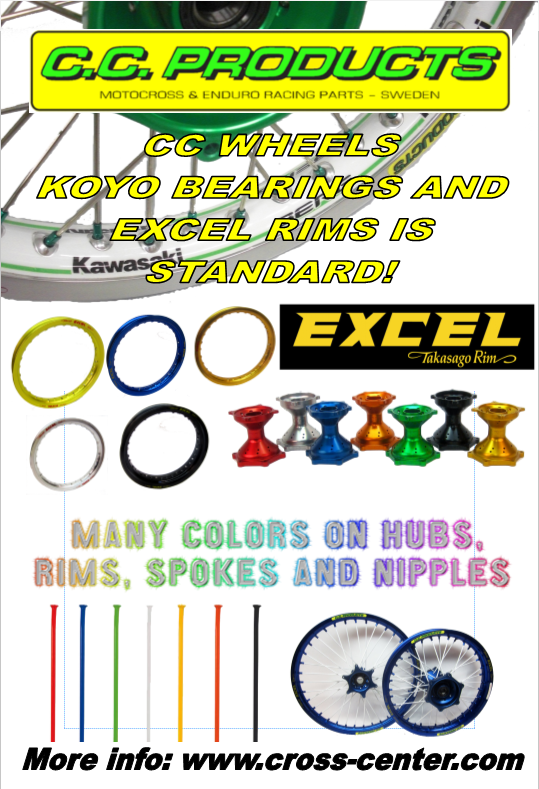 CC Products wheels
We make wheels for most brands and models in motocross, enduro and supermoto. Our wheels are made with the strongest spokes and spoke nipples available and the combination with our stainless spokes, nickel plated steel nipples and our hub makes our wheel the strongest wheel on the market.

You also have the option to personalize your wheels by choosing which brand you want of the rim and you can choose the color of the hub, rim, spokes and nipples. You can also create your own design of the rim with , for example, your name and sponsors.

The hubs are manufactured in Sweden with 6082 material and using the latest CNC technology for the strongest hubs in combination with as low weight as possible.
All hubs are supplied with Koyo quality bearings and we have double bearings on the drive side of the rear hub. All the rear hubs for large machines, 125cc and up, have double bearings on both sides for maximum strength.

Since we are manufacturing both the hubs and the spokes we have been able to give all our wheels a unique spoke design so all bikes can use the same kind of spoke on the same size of wheels.
Example:
if you have a 19" rear wheel regardless brand, model or year you have only one spoke that is used and all spokes are the same length.

Quality, strength and unique technique.
The hubs and spokes are manufactured in Sweden and all hubs are made from 6082-T6 aluminum and the axle collars are made of 7075-T6 aluminum. Standard brake discs and Sprockets can be used on all wheels and we use standard Koyo bearings that are easy to obtain. 65 cc wheel has 28 spokes and 85 cc wheel has 32 spokes. 125cc and up has 36 spokes.

All wheels have CC Products stainless steel spokes fitted with nickel plated or zinc plated steel nipples as standard but you can also choose fromm different nipples in brass or aluminum. All wheels are assembled by hand for a perfect result and all parts of the wheels are sold separately. You can personalize your wheels by choosing different colors on hubs, spokes, nipples and rims.

Rim locks, rim tape and aluminum rim lock nuts can also be ordered.

If you want to look at some of the wheels we have made you can look at Cross-Centers Facebook page.